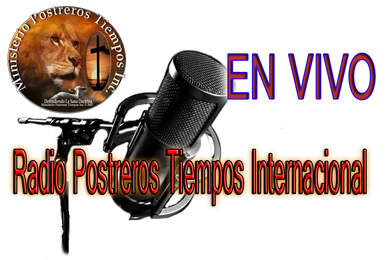 Comparte Nuestra Radio Emisora Con Tu Familia y Amigos
Dios Te Bendiga

---
Radio Emisora Cristiana, Evangelica, Pentecostal Por Internet y su crecimiento ha explotado durante estos últimos años. Nosotros Como Protestantes Defendemos La Verdad Tal Como Esta Escrista En La Biblia. De acuerdo con Arbitron quienes son los encargados de hacer las encuestas radiales o internet. Arbitron indica que los radio - MP3 - Podcast - oyentes por internet está en aproximadamente en 270 millones, el doble del año pasado. Lo que quiere decir que este número seguirá aumentando cada año, son mas los que usan su aplicacion mobil que los que usan computadora. Esto también aplica a la Televisión por internet / Mobil que cada año aumenta más. Por esto Ministerio Postreros Tiempos Inc.
Usamos estos medios de comunicación para bendecir con la verdad a las naciones.

---
---

Spanish Christian Podcast and Internet Radio plus Live Broadcast
93.5 FM W.R.P.T. - LP Boston, MA.

Tu ofrenda voluntaria nos ayudara a continuar adelante y transmitiendo...



Mapa De Alcance De Nuestra Emisora
93.5 FM LOW POWER RADIO STATION


Siguenos En


Siembra en este ministerio para bendicion de miles de almas, Dios te bendecira,amen.


---

---

---
---
---
---
---
Escucha predicas, testimonios, programas cristianos de sana doctrina aqui en este sitio internet o a travez de celular;
iPhone, Android, Samsung,Blackberry tenemos todos los formatos, como Windows Medi Player - Quick Time WinAmp...
Alabanzas Coritos Pentecostales y mucho mas, aqui en Radio Postreros Tiempos Internacional....
Audio is everywhere these days. It's available on multiple platforms and devices, and it engages millions of listeners. In fact, internet radio alone reaches almost 270 million American listeners each week.
That's why M.P.T. Inc.Broadcast live stream audio and makes it easier for advertisers to effectively value the medium and help determine its rightful place in the media preaching ministry.
------------------------------------------------------------
Like they've done for so many other forms of media, apps have transformed radio. Whether it's traditional radio stations, or those made for Internet only, apps have become a popular way to access these audio streams. It's worth mentioning that Apple has released iTunes radio which will be sufficient for the casual user. If you're looking for something more, this App Guide should help you pick a new favorite. Navigating radio apps can be confusing, as personal radio services now offer customized playlists and a greater amount of user input.

This App Guide features the best radio apps available, including apps with traditional radio stations, Internet radio stations, and personal radio playlists. It does not cover subscription-based on-demand music services, such as Spotify, Mog, or Rdio.

Pulsa enviar una sola vez y reciviremos tu respuesta.


---

Dejanos saber si necesitas trafico de internet a tu pagina web.


TuneIn Radio our station


---

radio.es - espaÑa


---

radioguide.fm
we are on air


---

Dejanos saber tu alabanza favorita
para que la escuche en
1630 AM / 93.5 FM
Radio Postreros Tiempos Int.


---

MINISTERIO POSTREROS TIEMPOS

CERTIFICADO PARA TRANSMITIR EN LOW POWER

TRANSMITIMOS NUESTROS PROGRAMAS A TRAVEZ DEL

1630 AM Y ESTAMOS RECONOCIDOS POR;




Part 15 AM/FM Broadcasting

Pronto Radios De Puerto Rico estara transmitiendo nuestra Emisora Postreros Tiempos con Noticia, Musica Cristiana, Predicas, Exortacion, Testimonios, Reflexion Diaria, y mucho mas. Visita esta pagina y Gozate en el Señor


---